Streaming on Android
The application for trading equities and derivatives on Multi-Market through Android latest version by Settrade.com Company Limited designed and developed by internet trading and Smart Phone specialist will enable you to do fast, easy and safe investment both on equities and derivatives.
Streaming for Android is fully equipped with real time investment information to facilitate your investment decision making and in making prompt trading with Smart Shortcut function and even better with Streaming Widget function which will facilitate the tracking of market sentiment and investment portfolio right away at Home Screen which was designed under unique features of Settrade Streaming that provides you with an easy and flexible operation such as the Swipe for changing of menu or screen.
Real Time – never miss any market movement
Tracking all market movement with SET Index information, market outlook summary, price of stocks or derivatives on real time and historical data and even more fully with 1 year historical graphs by simply rotate the screen horizontally.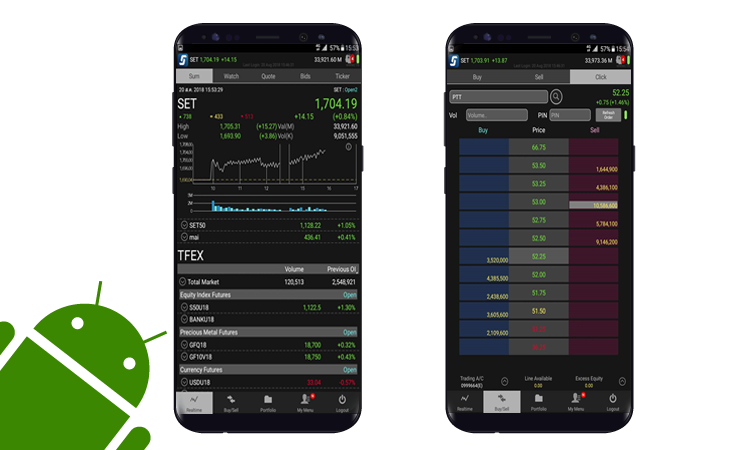 Click – simply click for trading
Trading orders execution is easy and fast when made through the new trading screen "Click". All you need to do is to click at the required price or Drag and Drop to cancel the orders.
Streaming Widget – view stocks price and portfolio at Home Screen
More convenient with "Streaming" Widget, simply add Widget on your Home Screen and you are able to track the movement of SET Index, stocks under Favorite group, Portfolio and view additional information just simply click at the required stock's name.
*To update the price and portfolio press Refresh.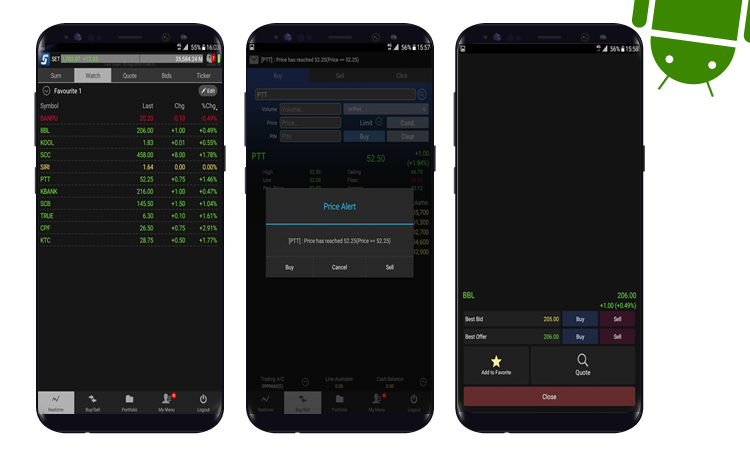 Alert – never miss a single movement
Tracking every movement of the price, matched orders and market summary, convenient to trade immediately after the price alert, simply set the alert condition at Notification Settings menu and you will not miss a single reminding whether the application is on or off :
    - Price/Volume Alert :  price or volume matched
    - Order Alert :  order matched
    - News Alert :  individual stock's news updated
    - Market Summary :  summary of SET/MAI Index and the daily Most Active stocks

Smart Shortcut – fast trading on any screen
In whichever screen you are currently using just hold a longer touch on the name of the stocks or derivatives, the Smart Shortcut will appear as a shortcut for you to execute trading orders, to watch the information or even to add such stocks or derivatives into your Favorite group immediately.